Testing the Promise
of Religious Freedom
While the 1701 Charter embraced religious liberty, it also reserved all public office-holding to Christians and required Catholics to worship discreetly out of the public eye. Three of the oldest Catholic churches in the city, St. Joseph's, St. Mary's, and Holy Trinity, survived the early years by being virtually invisible from the public street. Nineteenth-century attacks on Catholicism and Judaism in Philadelphia created opportunities, some of which were embraced, to create new laws that put broader principles of liberty of conscience ahead of the restrictions in the original charter.
Anti-Catholic (and anti-immigrant) sentiment was never far from the surface. In 1740, 1755, and 1844 these feelings erupted into violence. During the French and Indian Wars, riots flared against Catholics as potential allies of Catholic France. Quaker leaders interceded, citing the Charter of Privileges' tolerance of religion, and St. Mary's and St. Joseph's were spared.
When an angry mob burned St. Augustine's to the ground in 1844, church officials sued the city for failure to maintain order and provide protection. The city claimed the Augustinian friars who ran the church were not U.S. citizens and therefore could not seek redress, but the courts ruled in St. Augustine's favor, awarding half the requested sum. The city paid up and St. Augustine's rebuilt. It now serves another immigrant community -- Filipino Catholics who come from the tri-state area every Sunday to hear Mass with prayers in Tagalog.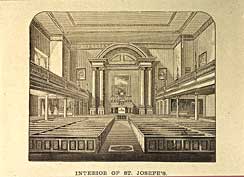 Woodcut
Interior of St. Joseph's
Maker unknown, c. 1840
Society Print Collection
By 1734, news of a mass being celebrated at Walnut and
4th Streets came to the attention of the Provincial Council.
In response to the complaint that St. Joseph's celebrated "Romish" Mass contrary to the laws of England, Fr. Greaton cited the religious liberties clause of the Charter of 1701.
The Provincial Council ruled in the church's favor, making
St. Joseph's the only place in the British Empire to celebrate mass publicly in 1733-34.